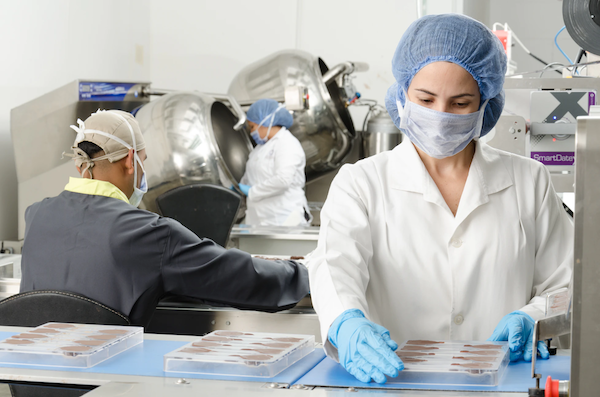 A chain is only as strong as its weakest link. To be sure, this is a powerful, poignant refrain that is easy to fathom when you imagine said chain is only six, even 12 links long. But what if your chain consists of 50 links? Thousands of links? Imagine you had a chain with enough links to span several continents. Now finding the weakest link becomes more of a needle in a haystack. What if large swaths of those links had widely varying degrees of strength? How do even begin to account for every component, every variable, every stress put on your impossibly long chain?
You know where we're going with this.
Protect Your Bottom Line
The food supply chain is that hypothetical chain in real life. It's complex, contains links of varying strength, and touches every part of the globe. It is quite a task to attempt to account for it all. But the consequences of not doing so could be costly, both in dollars and in human life. When disease-causing bacteria contaminates food, foodborne illness can occur. The 48 million cases of foodborne illness every year lead to 128,000 hospitalizations and 3,000 deaths. And the average cost of a recall is more than $10 million. There is a lot at stake.
Here are four farm-to-fork food safety guidelines to protect your bottom line and your fellow man.
Maintain accurate labeling
What is in a label? A lot, actually. Food labels and packaging aren't just counted on by consumers to determine the nutritional value of the foods they choose to buy — don't underestimate for a moment the speed in which consumer taste and preferences shift; it is critically important to provide full transparency — they're also essential to increasing traceability. And the more visibility, the less risk. Inadequate labeling is a real problem: 80 percent

of manufacturers report problems from mislabeled products on their primary production line. It's no wonder — 67 percent of manufacturers still rely on manual inspection methods. IoT and RFID on labels and packaging are two ways to begin facilitating tracking and tracing throughout the supply chain.

Recall training
Recalls are events that the food chain obvious desperately wants to avoid. But once one becomes necessary, it's essential for staff to be ready to react. Conducting recall training not only prepares your operation for a crisis, it also creates a culture within the organization where prompt response is priority. That culture and attitude starts with total buy-in from the top. If executive leadership shows that it places a premium on food safety, the rest of the company will fall in line. From there, be sure to develop a strategy for supply chain managers to follow that ensures all regulations are met.
Vet suppliers
To proactively manage risk, you have to know who you're working with all along the food chain. Suppliers should be vetted not only on the risks inherent in the ingredient, product, or service they provide, but also the risks the supplier itself may pose. The supplier contract should include quality specification conditions such as temperatures, limits, and test methodologies. Upon onboarding, suppliers should be made well aware that strict adherence to food safety measures will be enforced through ongoing monitoring or else they risk termination. In other words, if they want to continue to prosper from your partnership, they need to stay firmly in your trust tree because you will not tolerate food safety risk.
Ensure comprehensive traceability
At the end of the day, traceability is the name of the game. Without it, standards are not met, food quality erodes, mistakes are made, and recalls will occur with dire monetary and public safety consequences. The ideal setup provides end-to-end real-time material movement tracking complete with traceability analysis and performance optimization from raw material to finished goods. With such capabilities in place, contractual requirements become far easier for suppliers to meet.
ThinkIQ's Digital Manufacturing Transformation SaaS provides unprecedented material traceability and insight that improves yield, quality, safety, compliance, and brand confidence while reducing waste, environmental impact, and virtually eliminating recalls.
The result: a single source of truth for all raw materials, significant yield improvement (by as much as 90 percent), 99.999 percent elimination of recalls, tens of millions of dollars in operation savings, enhanced customer engagement and loyalty, and a safer, healthier food chain for all.
Ready to commit to a safer, more traceable food chain from farm to fork? Talk to one of our experts today so we can discuss what ThinkIQ can do for your operation. We also have a new selection guide eBook to help you better understand the questions you should be asking. Download your copy today.