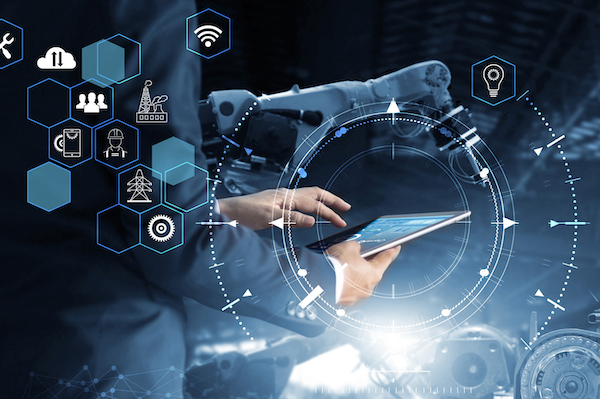 Lean or agile, take your pick. It seems like it was always one or the other, but never both. Not anymore.
The unpredictability of the Covid years changed the ways that manufacturers approach supply chain management. Where once the focus was on lean manufacturing, recent volatility has made demand impossible to predict, with existing supply chain processes unable to support the change. Materials shortages have been a real challenge. And so an agile supply chain has become essential to keep manufacturing processes flowing – and to stay competitive.
What's the best way to achieve the transformation to a lean and agile manufacturing hybrid? A migration to Smart Manufacturing digital processes, aka Industry 4.0.
Lean And Agile? It's Possible With The Power Of Continuous Intelligence
First, let's review what "lean" and "agile" mean. Then, let's look at 7 ways that Smart Manufacturing works to make your supply chain a powerful combination of both.
Lean manufacturing is focused on preserving value and containing costs by "trimming the fat." It centers on the reduction of the seven wastes: overproduction, unnecessary transportation, inventory, motion, defects, over-processing, and waiting. This process requires predictability to work well.
Agile manufacturing is achieved through adaptability and flexibility. It centers on speed, cost efficiency, responsiveness, and productivity in the production and delivery of goods. This process, as opposed to lean manufacturing, focuses on resiliency and flexibility.
A supply chain powered by the continuous intelligence of Smart Manufacturing technology builds the benefits of agile manufacturing on top of those inherent in lean manufacturing. This creates a smart supply chain that allows manufacturers to decrease waste, prevent defects, and improve overall process performance for a dramatic transformation in supply chain management.
Here are 7 ways to make your supply chain both lean and agile with Smart Manufacturing:
Improve Integrity in Manufacturing Processes — Interconnect machines, devices, sensors, and people to prevent issues rather than react to them. This is the foundation of Smart Manufacturing, and allows for effective monitoring of manufacturing processes across the supply chain; realtime data gathered through cyber-physical systems and machine-to-machine communication to identify declining performance. Predictive analytics provide early warning alerts so manufacturers can spend their time proactively preventing issues rather than merely reacting to them.
Avoid Recalls — Understand every aspect of your supply chain in realtime to avoid recalls.

Product recalls

can cost companies millions or even billions of dollars, not to mention the associated brand damage. But with Smart Manufacturing, these devastating costs become very avoidable. An Industry 4.0 platform can electronically integrate and analyze data to quickly spot issues before they snowball. Smoothing out supply chain issues (or seeing errors along the chain, when they happen) means manufacturing processes can run at full capacity more often. Greater efficiency increases production yield while reducing waste, saving smart companies millions annually.
Make Decision-Making Quicker and More Efficient — Have a system that continuously feeds you actionable, timely information. It's not just about having the data - it's about having the intelligence to process and take action on that data, in realtime. A Smart Manufacturing platform provides a granular, contextualized view across the supply chain of material flows and related attribute data integrated into existing

IIoT

infrastructures, providing actionable insights while creating a smarter, self-correcting ecosystem that is agile beyond the range of human capability. The best systems add context and send alerts on data variations.
Redirect Resources for Further Innovation — Invest in innovation! Smart Manufacturing reduces the day-to-day demand on the human workforce, so those resources can be reallocated towards design and engineering innovation. This is how you can make that space to further streamline your supply chain, distribution chains, and manufacturing processes.
Increase Safety — Reduce physical demand and ensure worker safety. How? With the preventative error spotting and maintenance flags that Smart Manufacturing A reduction in the aforementioned machine degradation translates to a reduction in workplace injuries, reducing cost on a human level, managing risk, and increasing overall efficiency.
Reduce Lead Times — Deliver faster with smarter supply chains. Nowadays, AI and machine learning (ML) work together to analyze data and execute processes, driving disparate systems. Scalability along with decentralized decision-making expedites production processes, points to potential efficiencies, and increases savings. Bonus — it also reduces energy consumption.
Align With Supply Chain Partners — Understand and coordinate with your partners. Part of staying resilient requires interaction and alignment with suppliers and other partners across the supply chain. Digital transformation makes this easier, as data can be shared easily across platforms keeping all parties in the loop with changes, and enabling manufacturers to be both agile and lean as they pivot on demand.
Want to develop the ultimate competitive advantage? A supply chain that is both lean and agile with the help of Smart Manufacturing technology is not only possible, it's the way to go in today's unpredictable, fast-shifting marketplace.
A Transformation In Supply Chain Management
As we've seen, with today's supply chain in disarray it has become more important than ever for manufacturers to have access to accurate, optimal supply chain traceability.
The rapidly expanding need for just-in-time manufacturing and fulfillment capabilities across industries requires the Smart Manufacturing systems of Industry 4.0 to play an integral role in driving mission-critical decisions within today's manufacturing organization.
ThinkIQ's continuous intelligence solution delivers an opportunity for manufacturers to adapt their processes in the wake of ever-changing conditions by leveraging contextualized, time-sensitive data that allows for accelerated, more effective decision-making, with the ability to share intelligence across systems and partners to drive overall operational efficiency and productivity — all adding up to a supply chain that is lean, agile, and Industry 4.0-ready to face future challenges head-on.
—————
Get on the lean and agile train — get in touch with a ThinkIQ expert today to learn more about how to transform your business with our Smart Manufacturing Transformational Intelligence platform, or download our eBook, "Advanced Material Traceability Revolutionizes Digital Transformation."