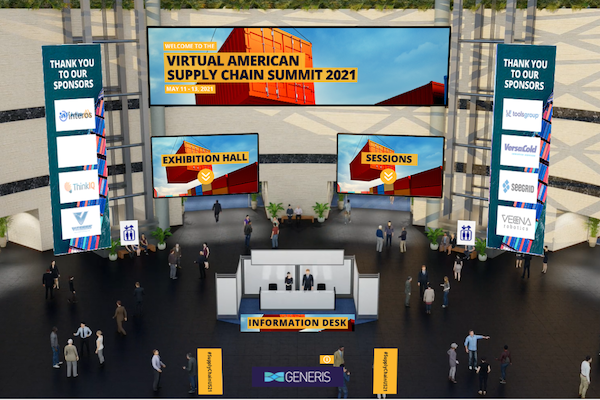 It should be no surprise that American Supply Chain Summit 2021 will be a virtual event to accommodate the challenges with social distancing but still provide the world-class access to the latest in supply chain management technologies and best practices. We at ThinkIQ are excited to announce that we will be a sponsor and host a workshop this year. The event is going to be held virtually from May 11th – 13th and our CEO, Douglas Lawson is leading a workshop on May 12th at 1:55pm EDT titled "THE VOYAGE TO RESILIENT, SUSTAINABLE AND AUTONOMOUS SUPPLY CHAINS". Doug's workshop will cover:
The fragility of global supply chains has been highlighted by the COVID-19 pandemic.


A team of some of the Worlds largest Manufacturing companies, Technology Providers and Public / Private partnerships is examining the root causes of fragility and ways to eliminate them.


This discussion will highlight some the findings of this effort and present a vision of increased supply chain autonomy.
If you are interested in the summit but haven't registered yet, then we would like to offer you a significant discount on us. Click here and use the code THINKIQVIP to receive a $1,600 discount off the $1,900 registration fee today.
The Virtual Experience
The American Supply Chain Summit has gone virtual! We are thrilled to offer the same caliber of executive experience, in a virtual setting and provide:
Virtual Exhibit Hall: Stroll the virtual exhibit hall to identify key service and solution providers you need to enhance your operations and network with vendors and fellow delegates in the floor chat rooms
Networking On A Digital Scale: Take your networking experience to a whole new level without digital chat rooms, cocktail receptions and speed dating sessions; connect with peers you may never have had the chance to meet; and expand your professional network and add people directly to your professional social accounts; as well as join Lunch and Learn discussions — with a code to order lunch and refreshments!
Curated 1-2-1 Meetings: Connect with your peers, vendors, and prospects via privately curated 1-2-1 meetings and enjoy intimate conversations, without distraction on Zoom based platforms
Live-Streamed Sessions: Access live-streamed sessions; participate in real-time chats and have your most pressing questions addressed; select sessions from simultaneous streams and enjoy instant access to all presentations and videos; and immediately download materials and handouts to store in your "Digital Briefcase"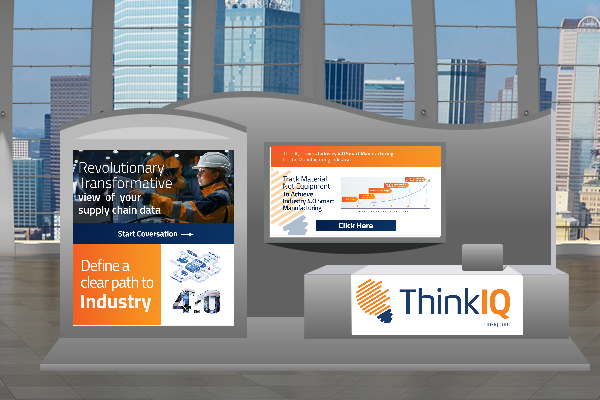 Rewind To Supply Chain Summit 2018
As we prepare for this long-anticipated event, we are faced with mixed emotions and thoughts. Rewind to 2018, when we participated as an exhibiter at the #Generis Food Manufacturing Summit in Chicago. Although there was a significant snowstorm, preventing many exhibitors and scheduled attendees to participate, we felt that it was still such a rewarding experience.
We understand that there is really no replacement or substitute for meeting someone in person, but we have much to share via video chats and one-on-one meetings, but they will be over a camera and in a "chat room". We will miss the personal experience but trust you will still come away with actionable knowledge you can use immediately to start the process of achieving Industry 4.0 Smart Manufacturing.
Why ThinkIQ?
ThinkIQ is the leader in Transformational Intelligence for Manufacturers, contextualizing data — both in-plant and across your supply chain — to improve yield, safety, quality, and compliance.
ThinkIQ transforms companies from using raw data to Industry 4.0 Smart Manufacturing. This Transformational Intelligence is ultimately a revolutionary shift, but it is implemented in manageable increments, offering significant benefits at each step.
ThinkIQ helps you reach Smart Manufacturing status. We contextualize and report analytics that surface root-level problems that you could never spot before. While previous technologies like ERP, MES, and MOM were passive, ThinkIQ's Transformational Intelligence delivers Industry 4.0 actionable insights that transform manufacturing.
We are looking forward to meeting everyone at our Virtual Booth and at our Workshop on May 12th at 1:55pm EDT! Please do stop by our booth to receive our e-books on "Advanced Material Traceability Revolutionizes Digital Transformation" and on "" (Only available at our booth) and register to win our Amazon Fire Cube.