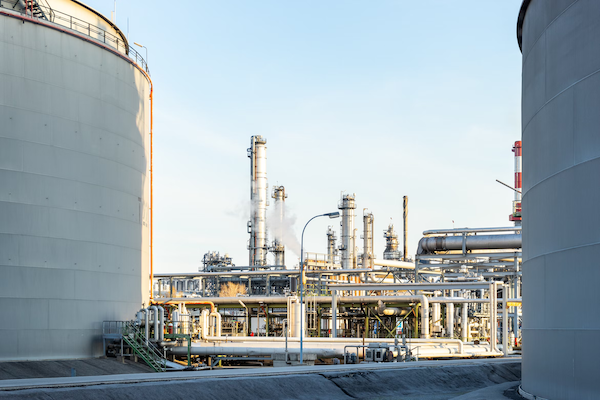 The chemical industry is essential to the health of the global economy, influencing many other industries including the textile, automobile, and pharmaceutical industries. Incredibly, the chemical industry affects the production of more than 96% of the manufactured goods we use in our daily lives.
Recent events – from the COVID-19 pandemic to Russia/Ukraine sanctions to inflation – have rocked manufacturing industries worldwide. And while we're not out of the woods yet, global demand for goods (and thus demand for chemicals) seems to be on the rebound. As chemical industries seek to bounce back, a key concern is the vulnerability of supply chains that was made clear in the 2020s.
An Agile Supply Chain - The First Line Of Defense
A vulnerable supply chain is one that, most fundamentally, lacks agility. An agile supply chain can help maintain optimal efficiency, safety, quality, and productivity in turbulent times.

An agile supply chain has the resilience and adaptability to withstand volatility and unpredictability. The chemical industry faces continual challenges—supply chain bottlenecks, fluctuations in demand, order backlogs, increases in materials costs, materials shortages, and constant regulatory watch to name but a few. While some sub-sectors of the chemical industry during the pandemic have seen demand plummet, including the automotive, aerospace, and oil and gas industries, others like the pharmaceutical sector have seen an increase. Regardless of the circumstances, there has been an increased focus on how to optimize production, reduce waste, increase safety and sustainability, and how to respond with more flexibility to rapid fluctuations in supply and demand.

How can companies in the chemical industry adjust to these dynamics and increase supply chain agility in order to plot a successful future in 2022 and beyond?

These challenges require manufacturers to implement advanced logistics planning and supply chain management in order to stay competitive in an increasingly complex manufacturing landscape.

Advanced supply chain management today necessitates a move to digitization; businesses in the chemical industry are creating more resilient and agile supply chains by operating through a digital network that enables increased visibility, collaboration between all stakeholders, and that allows for rapid responses to changes.

This digital transformation engages Industry 4.0 technologies such as the industrial internet of things (IIoT), artificial intelligence (AI) and machine learning (ML), harnessing raw data through cloud-based continuous intelligence and turning it into actionable insights.
Industry 4.0 Technologies For Increased Supply Chain Visibility
Industry 4.0 technologies facilitate an increase in supply chain agility in a myriad of ways:
Advanced analytics make predictive maintenance possible, so anomalies in plant equipment can be identified, and alerts provided at the earliest signs of failure, a crucial process since undetected problems can lead to longer repair processes or even production shutdowns.
Visibility is imperative in the chemical industry, and digital transformation can make end-to-end supply chain visibility possible, creating a seamless digital supply chain with data available across supply chain partners up and downstream, and allowing chemical companies to adjust production according to demand and material availability.
Quality maintenance is also of the utmost importance for chemical manufacturers as they often supply the foundational chemicals for use in other industries. Predictive and prescriptive analytics uses machine learning and AI to spot fouling and other anomalies, providing the key data insights that allow for precise adjustments to a mix as needed.
Chemical manufacturing involves a variety of hazardous chemicals, and a variety of industries that depend on them, and thus the industry is highly regulated. Digital transformation helps to raise safety profiles, reduce emissions, dangerous events, and recalls, and ensure accurate and reliable documentation in the event of an audit—all adding up to a smoother-running, more efficient and agile supply chain.
Chemical companies often face high energy costs, demand for low prices, and volatile raw materials pricing makes reducing waste essential. Digitization makes processes run more efficiently across the supply chain, resulting in lower energy consumption, less materials wasted and a significant reduction in overall costs.
The fact of the matter is, any number of short-term issues can quickly become major long-term disruption if companies don't adapt by putting a system in place that will minimize the impact of future disruption on profit margins, output, and overall brand value. Chemical manufacturers that are embracing a digital transformation are finding innovative and effective ways to increase the critical supply chain agility needed in these times.
The Chemical Industry's Key To Supply Chain Visibility
An agile supply chain in the chemical industry requires superior supply chain management, and the future of supply chain management lies in the adoption of Industry 4.0 Smart Manufacturing technologies.
With ThinkIQ's Transformational Intelligence platform, chemical manufacturers now have access to advanced visibility for a complete overview of all operations. Through the power of continuous intelligence, our Smart Manufacturing technology offers end-to-end supply chain traceability from raw material to finished product, allowing companies to dramatically reduce recalls, identify plant weaknesses and eliminate safety concerns.
As the chemical industry seeks to recuperate from recent turmoil, the time is now to increase operational resilience and supply chain agility by implementing the Industry 4.0 technologies that will future-proof your chemical manufacturing business for the unpredictable road ahead.
Access superior supply chain solutions for your chemical manufacturing enterprise today — get in touch with one of our experts for a no obligation Chemical Supply Chain Traceability demonstration, and download our free evaluation guide to learn more about the 5 stages needed to fully reach Industry 4.0 Smart Manufacturing status.