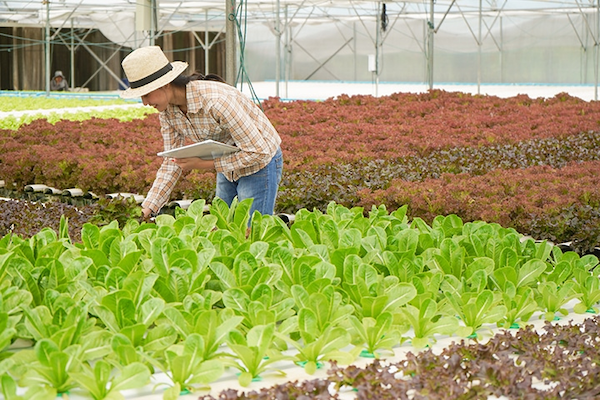 You are what you eat. Which for some of us, means we are lasso-toting, cowboy-hat-wearing cream-filled golden sponge cakes. Yee-haw. For others, their body is a temple — everything that goes in must be pure organic brain or muscle fuel grown with the greatest of eco-responsibility in mind. For most, we're somewhere in between. We'd like our vegetables fresh, our meat raised responsibly, and to have confidence in every one of those claims, yet at the same time, the occasional Twinkie or Ho-Ho won't kill us. Even as bad as pastries might be for our health, we'd still prefer to be able to confidently rely on the expiration date stamped on the packaging.
But what are you if you can't trust what you eat?
This is where we find ourselves today. One of the COVID-19 pandemic's great lessons is that consumer demand can shift significantly in short order. And despite extraordinary obstacles, expectations remain the same. In the face of fluctuating resources, manpower, and provenance, what are food supply chains to do?
Thankfully, we saw this coming. Few saw the pandemic itself looming as a real threat, but as far as the paradigm shift toward ecommerce that demands greater transparency and flexibility, we were already moving in that direction. The most devastating public health crisis in a century simply hastened the shift. Knowing that food and agribusiness is a $5 trillion industry that represents 10 percent of global consumer spend, 40 percent of employment, and 30 percent of greenhouse-gas emissions leaves us acutely aware of the monumental stakes.
The Circumstances That Precipitated Industry 4.0
The Fourth Industrial Revolution, also known as smart manufacturing or Industry 4.0, has evolved to meet the outrageous demands of this new order. It's expected to create up to $3.7 trillion in value for the global economy in new products and services by 2025. Just consider that automation technology can currently automate 60 percent of all manufacturing tasks, yet the level of penetration of industrial robots is comparatively low. Only 15 percent of assets are connected via the internet of things (IoT) and there are numerous examples of tons of data being captured but only a fraction of it being used in decision-making. In other words, we have the means, we just have yet to fully utilize it industry-wide. And with the global population set to increase by roughly 2.3 people by 2050, food production will need to increase by 70 percent to meet the extra demand. No small task.
Now consider that the total number of food recalls in the United States increased by 10 percent between 2013 and 2018, peaking at 905 recalls in 2016. Meat and poultry recalls in particular rose by 83 percent over this time period. To be able to put the kibosh on food recalls would be a major step toward meeting our growing needs. Indeed, it behooves the food and beverage industry to adopt Industry 4.0 as soon as possible, lest leave our factories scrambling to play multigenerational catch-up once Industry 5.0 is eventually upon us.
How Industry 4.0 And A Material Ledger Makes Our Food Safer
So how we do it? How does Industry 4.0 modernize food safety?
Smart manufacturing enhances collaboration to deliver full visibility into both what you have and the full history of how it was made. That includes where materials came from, how they were processed, and the quality at every step. Industry 4.0 is predicated on four basic components:
Interconnection — The ability of machines, devices, sensors, and people to connect and communicate with each other via IoT or the internet of people (IoP).
Information transparency —The transparency afforded by Industry 4.0 technology provides operators with comprehensive information to make decisions. Interconnectivity allows operators to collect those immense amounts of data from all points in the manufacturing process and identify key areas that can benefit from improvement to increase functionality.
Technical assistance — The technological facility of systems to assist humans in decision-making and problem-solving, and the ability to help humans with difficult or unsafe tasks.
Decentralized decisions —The ability of cyber-physical systems to make decisions on their own and to perform their tasks as autonomously as possible. Only in the case of exceptions, interference, or conflicting goals, are tasks delegated to a higher level.
In other words, not only do we need the tools, we need them to communicate with each other. The data systems those tools feed into must be accessible to everyone in the supply chain. Only then can we make optimal use of the wealth of data at our fingertips for decisions to become automated, or at a higher level, for human operators to make decisions that move the needle.
Material ledger is an Industry 4.0 technology that can be used to increase trust in food safety, transparency, and traceability throughout the supply chain. Similar to blockchain, which itself has its shortcomings, a material ledger offers a novel approach to intelligently tracking material and energy movements and transformations, associated monetary value, process data, and quality data. And the intended purpose of material ledger is more specific to our needs along the food supply chain. It keeps track of material movements and provides context to process and quality data, whereas blockchain is designed for tracking anonymous money.
Unprecedented Material Traceability
ThinkIQ delivers unprecedented material traceability and insight into way to improve yield, quality, safety, compliance, and brand confidence. So much so, ThinkIQ's production intelligence helped McCain Foods, the world's largest manufacturer of frozen potato products, improve yield in excess of its initial 3 percent target to 8 percent — a significant amount, according to its executives. Utilizing ThinkIQ's farm-to-fork visibility data and platform, General Mills doubled its production yield, saved more than $40 million in operational savings over 24 months, and achieved 99.999 percent elimination of recalls.
If you're ready to reap benefits like these from Industry 4.0 technology that lead to greater food safety from farm to fork, contact a ThinkIQ expert today. We also have a new selection guide eBook to help you better understand the questions you should be asking. Download your copy today.