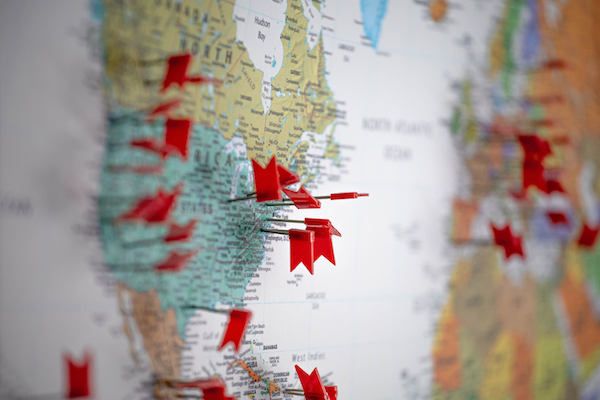 Have you ever noticed that complexity is really quite complex? Yet they say simplicity is complexity resolved. It's really quite simple. Wait, what?
Think about feats of strength or athleticism that leave you feeling underwhelmed. The general retort is often, "Well, could you do that?" No, the average person wouldn't be able to pull those things off. But is that a prerequisite for inspiring awe? Can't a person appreciate the degree of difficulty and still yawn at its completion? Look, there is no doubt rhythmic gymnastics are far beyond our capabilities, but that doesn't mean we aren't likely to give out a little snicker at the sight of it.
We're not trying to mock anyone's bag, just pointing out that mastery of complexity to the point of the appearance of simplicity is a pursuit we're all after. Now imagine: What does simplicity look like in supply chain management?
Industry 4.0 Is Becoming A Reality
Simplifying the vast complexities of the supply chain begins with smart manufacturing. Smart manufacturing, or Industry 4.0, is the interconnection of the world of manufacturing machines, internet of things (IoT) sensors, industrial internet of things (IIoT) sensors, and supply chain data. To get all of these devices and systems communicating with one another takes shared language, context, and goals. And until recently, no platform was capable of implementing traceability and supply chain data that would create proactive, actionable end-to-end data insights from the petabytes of manufacturing data created daily.
However, with 2022 knocking on our door and end-to-end traceability becoming ever more mature, the benefits to food & beverage, pharmaceuticals, and mining industries are more exciting than ever. And there is so much on the line:
Fifty-two percent

of recalls cost more than $10 million; 23 percent of recalls cost more than $30 million
The top pharma companies generated $1,845 trillion on the stock exchange
The US chemical industry is a $768 billion enterprise that supports more than 25 percent of the total US GDP, with 96 percent of all US goods being manufactured using chemical sector products
Improving Tomorrow's Supply Chain Traceability Today
In the year ahead, traceability comes down to transformational intelligence. By transformational, we mean systems that proactively reduce the risk of recalls and strengthen safety and compliance, all while maximizing quality, yield, and profit. Enterprise resource planning (ERP), manufacturing execution systems (MES), and manufacturing operations management (MOM) solutions help, but also lack in addressing the entire supply chain and providing proactive, actionable insights through traceability.
Electronic integration, utilization of IIoT sensors, and intelligent data analytics are the tentpoles of farm-to-fork, lab-to-jab, and mine-to-metal traceability. To scale and handle disparate systems, supply chain managers must seek to incorporate gateways for any protocol (OPC, SQL, SFTP, etc) that connect to almost any system (historians, HMI/SCADA, PLCs, MES, ERP, custom) from any source (Wonderware, OSI, Rockwell, Siemens, SAP, etc). Once connected, data must be converted through pre- and post-processing methods using powerful scripting (Anaconda Python), a distributed engine that scales as needed, and that utilizes AI and ML with access to industry-leading libraries. Finally, semantic models must be built that are domain-specific to understand manufacturing, so that they are reusable, and that are highly configurable for different instances.
All of this backend work should result in dashboards that provide unprecedented traceability with end-to-end real-time material movement tracking. In such instances, standardization and validation of raw material data will facilitate optimal production scheduling across plants, region, and enterprise. These newfound traceability analyses and performance optimizations make the achievement of complex contractual requirements simple.
So, where to begin? ThinkIQ's Digital Manufacturing Transformation SaaS delivers that unprecedented material traceability and insight that the food & beverage, pharmaceutical, and mineral industries will crave in 2022. Indeed, our material ledger provides avenues to improve yield, quality, safety, compliance, and brand confidence while reducing waste and environmental impact. With traceability as a lynchpin, our clients — such as General Mills, McCain, Corning, and Mars — have saved tens of millions of dollars identifying waste and underperforming assets, as well as reducing warranty reserves for quality and safety issues. Simply put, with ThinkIQ you can correlate what you buy with what you make up and down your supply chain.
This is complexity resolved. It's really just that simple.
Contact one of our experts for a consultation today. Download our eBook "Advanced Material Traceability Revolutionizes Digital Transformation" for more information on the potential of traceability going forward.