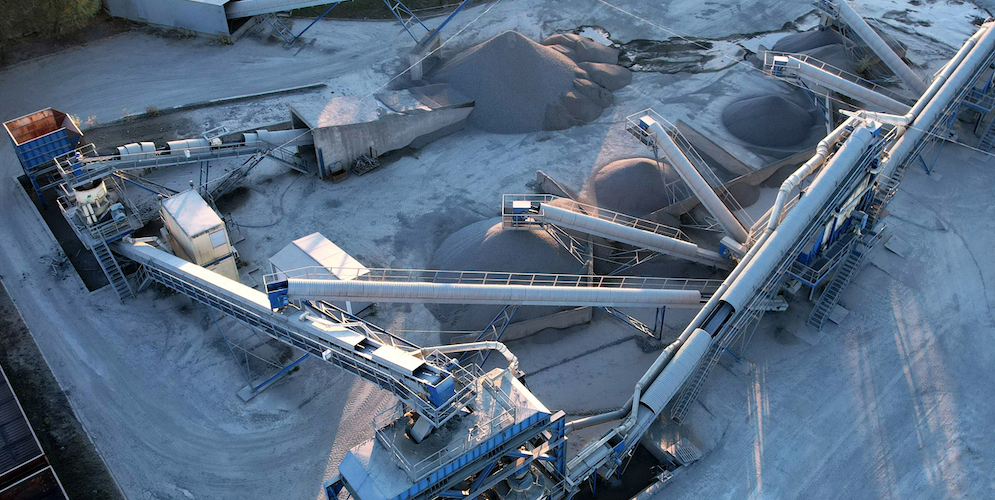 Construction and cement are industries in which inefficiencies can quickly become costly — upwards of $177 billion annually for the industry on the whole.
Increasingly, organizations are implementing Industry 4.0 digital technologies to reduce delays and help yard operations run more safely, and more smoothly. Let's look at how construction and cement companies are using these to build more efficient operations, and better bottom lines.
The Key To More Efficient, Profitable Yard Operations
To avoid any number of safety issues, delays, and possible crisis events in yard operations, construction and cement companies must proactively pursue efficiency with materials, equipment and people. Too often, however, visibility issues in a complex yard environment can lead to perpetual blind spots that can spiral out of control.
The key to more efficient, profitable yard operations lies in artificial intelligence (AI) and yard operations software. AI and yard operations software can supply actionable intelligence — leveraging data to extract insights that can illuminate blind spots.
Construction managers might have access to certain data, but without the complete picture, there are too many factors that can end up unaccounted for. The area that most often gets overlooked is people — and worker oversights and lapses can prove costly in more ways than one. Workplace fatalities are highest in the construction industry. Actionable intelligence can monitor the interaction between workers, machines and equipment to prevent safety issues and accidents before they occur.
An increase in safety helps boost efficiency, as does greater productivity. AI and yard operations software helps improve productivity by identifying areas for improvement, and performing automated tasks, freeing up resources for other more labor-intensive jobs and reducing the time it takes to perform processes and complete projects.
How Yard Operations Software Works
Implementing new systems might seem daunting, but it needn't disrupt the flow of operations. Non-invasive sensors can be rapidly installed and adapted to even vintage machines. The sensors capture data and deliver it to the cloud, where artificial intelligence can analyze it and translate physical yard operations into actionable insights. These insights arrive in real time, providing alerts for progress and issues that can then be understood and quickly acted upon.
Yard operations software and AI deliver real time feedback for construction and cement yard operations such as:
Equipment status

Average truck cycle time inside the yard

Truck entrance and exit time including truck identification

Duration trucks wait to be unloaded after arrival

Duration a loading dock was inactive while trucks were waiting in the yard

Actual weights of truck loads and real time alerts when trucks are overloaded
Tracking the progress of yard operations in real time ensures tasks are completed according to ideal specifications and regulations, and that each phase of a construction or cement project aligns with the budget. With the right actionable intelligence, companies can identify inefficiencies and opportunities for improvement, minimizing costs and improving overall profitability.
Manual processes are time-consuming and unreliable. The construction and cement companies that adapt and adopt Industry 4.0 digital technologies for their yard operations stand to rise above the competition. AI and yard operations software can deliver undeniable results in effectively monitoring processes, mitigating safety issues, and boosting productivity for greater efficiency. Greater efficiency equates to greater profits, with compounding results over time. The time to revolutionize yard operations is now.
A Better Solution For Yard Operations Effeciency
Organizations in the construction and cement industry can see significant increases in yard operations efficiency with innovative Industry 4.0 solutions.
ThinkIQ is the leader in Transformational Intelligence for Manufacturers, contextualizing data — both in-plant and across your supply chain — to improve yield, safety, quality, and compliance.
ThinkIQ's Yard Operations Solution gives you the full picture — by measuring both machines and equipment (utilization) & people (efficiency), true productivity is captured for the first time.
ThinkIQ's sensor devices can be installed in minutes without the need for IT support, changes to existing processes, or downtime. Based on a few simple questions, we'll begin learning about your yard operations and concentrate on your known weaknesses. As soon as the first week, you'll be seeing new operational insights.
Transform your yard operations for greater efficiency and profitability — Reach out to a ThinkIQ expert today to get started with our Yard Operations software solution. You can also download our new eBook, "Using Computer Vision to Fill Manufacturing and Warehousing Blind Spots with Actionable Data" to learn more about how to gain greater visibility into your manufacturing process.