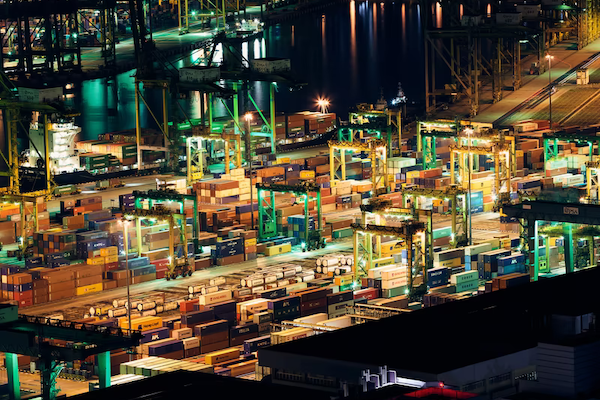 Want to buy a new car? Good luck with that. Interested in picking up a high-end graphics processor for your gaming computer or crypto farm? Fat chance. Hey, let's just hope toilet paper doesn't start drying up from store shelves again. As the holidays, Black Friday, and the busiest time of the shopping year approaches, we keep hearing about one thing over and over again: the impact supply chain disruptions have on the all the things we want. It's when people finally start to notice the dozens of container ships lined up off the coast of Los Angeles and many other major seaports nationwide. Call it a convergence of factors: short staff due to the pandemic, bottlenecks at major shipping channels, political tensions. The thing that becomes painfully obvious in the face of these difficult times is that there is no room for more supply chain challenges.
Supply Chain Cyber Attacks Are A Nightmare
And these maladies are mostly unavoidable. Once-in-a-lifetime plagues and vessels larger than the Empire State Building aren't exactly a dime a dozen. But consider if a master of the dark cyber arts were to intentionally throw a monkey wrench into the whole thing. That very thing happened in May of 2021 when hackers held the Colonial Pipeline and about 45 percent of all fuel consumed on the East Coast hostage for the tidy sum of 75 bitcoin, or about $5 million. Indeed, the US government realizes the absolute terror such attacks pose and are now offering a $10 million bounty for information on those hackers, known as DarkSide.
Supply chain cyberattacks are nightmare fuel for cybersecurity experts. Quiet wars are waged now not on physical battlefields but on the servers of the world. Between the CRMs, ERPs, MESes, MOMs, and every other connected system manufacturers use to drive business, there is a cacophony of disparate software systems that can pose numerous entry points for malicious cyberattacks. Not only is data flowing amongst internal systems, but data from outside partners and third-party vendors flows abound as well. If hackers penetrate the servers IT departments use to push software updates across an entire enterprise, malware can be widely distributed to cripple the entire system or at least to compromise its use.
As we all know from regular mandated human resources training, social engineering and phishing are widely used to deceive well-intentioned users into giving up their login credentials or other vital information. And once the hackers are in, it could be extremely difficult to detect their presence, let alone avail yourself of their devious control.
How To Reduce Your Cyber Risk
It can sound insurmountable to anyone without a master's degree in computer engineering and a Tor account. Standards such as ISO 9001, SOC 2, and CMM provide some protection, but are often expensive options. This puts the onus on companies to demand more of their vendor partners. Short-term costs savings may be attractive at the start, but no one can afford to incur the expense of a breach. It might affect you not only in terms of operational stagnation and a ransom, but the hit to your reputation may very well end up being the most expensive loss. You don't want to be in a position later where you regret not having chosen your partners more carefully.
The first step is mandating that your software partners provide demonstrable proof that they have integrated a security framework and are fully compliant. Don't allow your operations to get bitten by the 16 percent of all breaches that are attributed to vulnerabilities in third-party software. Applying security standards has become an excellent way to differentiate vendors bidding on your business. Elevating and choosing the ones that will insulate the funnels of data pulsing through the circulatory system of your operations using trusted, airtight encryption protocols is the smart move.
ThinkIQ's cloud-based intelligent supply chain platform gathers and contextualizes data from disparate data silos with great care and security. We utilize OPC, SQL, and SFTP protocols to ensure a highly secure flow of data throughout entire supply chains.
To learn more about how the data security ThinkIQ provides has led to partnerships with General Mills, McCain, Corning, and Mars, contact one of our friendly experts today. For more information, you can also check out our ebook, "Advanced Material Traceability Revolutionizes Digital Transformation."