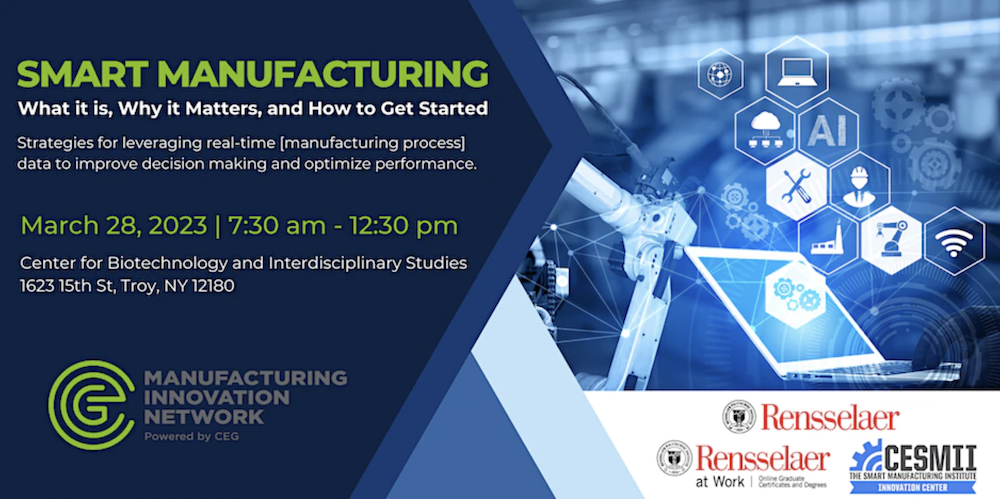 Manufacturing Innovation Network, powered by the Center for Economic Growth, is proud to present the RPI Smart Manufacturing Innovation Center and CESMII – "The Smart Manufacturing Institute", as their industry experts provide an introductory workshop on Smart Manufacturing and why it is critically important to implement now to secure the future success of your manufacturing operations. And ThinkIQ is proud to showcase our transformational intelligence for manufacturers, contextualizing data — both in-plant and across your supply chain — to improve yield, safety, quality, and compliance. Our 5 stage path to Smart Manufacturing leads to safer products and improved key metrics .
In this workshop you will learn about:
Smart Manufacturing – What it is, Why it Matters, and How to Get Started
Strategies for leveraging real-time [manufacturing process] data to improve decision making and optimize performance.
The Business Case for Smart Manufacturing
• What is Smart Manufacturing and why it matters to manufacturers
• Closing the gap between business strategy and technology enablement
• How new capabilities bring together people, process, and technology
• Tactics for upskilling the workforce
Smart Manufacturing Building Blocks
• Smart Manufacturing Principles
• Going beyond process control and dashboards (Industry 3.0 vs. Industry 4.0)
• Digital Lean and Smart Manufacturing synergies
• Leveraging Cyber-Physical systems, OT-IT partnerships, the SM Innovation Platform, and SM applications
Taking the First Step
• Smart Manufacturing critical success areas
• Understanding your current state
• Establishing a strategic vision and roadmap
• Prioritizing quick wins and longer-term plans
• Techniques for digitally connecting manufacturing systems to collect actionable data for better decision making
And tour the RPI Smart Manufacturing Innovation Center in the Manufacturing Innovation Learning Lab (MILL).
• See Smart Manufacturing systems in action, in an agile manufacturing facility that looks like yours
• Understand from industry experts how to digitally connect modern and legacy manufacturing equipment to collect contextualized data and implement powerful analytics
• How to protect data security including trade secrets, intellectual property and company privacy
Logistics:
Thuesday, March 28

th

, 2023

7:30 a.m. – 12:30 p.m. EDT
Rensselaer Polytechnic Institute,
Howard P. Isermann Auditorium,
Center for Biotechnology and Interdisciplinary Studies
1623 15th St Troy, NY 12180
Space is limited so register now - there is no cost to register
Please reserve your place here ASAP