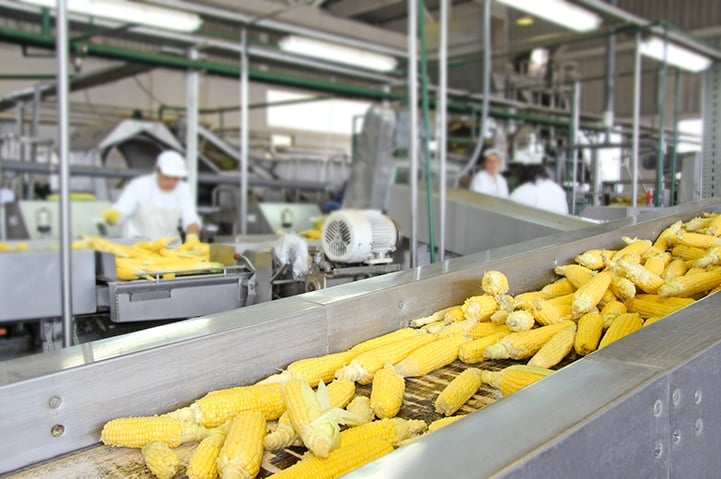 Industry 4.0 Smart Manufacturing helps Food & Beverage manufacturers take control of their operations through a digital transformation driven by continuous intelligence, automation, and connectivity in a cyber-physical environment. Smart Manufacturing harnesses the massive amounts of data Food & Beverage manufacturers have available to them, and contextualizes it, delivering crucial, actionable insights into manufacturing processes and a complete farm-to-fork overview of supply chain operations.
With Smart Manufacturing, manufacturers in the Food & Beverage Industry can get ahead of the many challenges they face, using realtime data to address problems even before they arise.
Food & Beverage manufacturers who take advantage of Smart Manufacturing technologies benefit by experiencing a significant reduction in waste and in the risk of recalls, increased food safety and compliance, and an overall improvement in quality, yield, and profit.
For some manufacturers, adopting these new technologies may seem daunting. But the path can be easy when you know the steps.
The 5 Stage path towards Smart Manufacturing in the Food & Beverage industry:
Data Capture

: Step one for becoming a fully automated Food & Beverage Smart Manufacturer is to collect all data — about raw materials, processing, manufacturing, delivery & distribution, transportation, even down to the consumer level. Ensure that you have basic digital access to the majority of that data, from IoT and IIoT devices, to HMIs, PLCs, ERPs, your CRM, and even manual data captures. This is the first and most urgent requirement, however, at this step it's almost certainly still on a wide variety of screens and in different data silos and isn't very useable.

Visualization & Integration

: Apply standardized metrics and views to bring wide visibility and context to the data. Manufacturers generally setup on-premise gateways & connectors along with a system to centralize data. Existing sensors continue to collect data, but now they also aggregate and securely send the data to a common location (often the cloud). Upon completion of this step, you should be able to view all your manufacturing and material data — including from suppliers — on one screen, and across multiple facilities. This then empowers your data scientists. Alerts and notifications bring problems to your attention, which begins to mitigate your risk of a recall, and often results in yield improvements.

Material-Centric Insight

: Enable a material-centric view of operations using advanced artificial intelligence (AI) and machine learning (ML) to correlate data. Key deliverables of this phase may include advanced visualizations of your Food & Beverage manufacturing line (including supply chain), cause & effect identification, industry benchmark reporting, and cross-plant KPIs. An ideal outcome is for manufacturers to identify previously unseen correlations — even root issues — from your supply chain through manufacturing and outward to the end-user. An Industry 4.0 platform uses AI/ML to create associations that lead to cause-effect determinations, which are ultimately what lead to the most useful predictions, warnings, and suggestions.

Transformational Intelligence

: Step four utilizes all of the prior efforts to supply transformational intelligence to Food & Beverage manufacturing organizations. machine learning (ML) begins to uncover root causes and effects. Data points from suppliers through customers are processed and related to your KPIs. You can rapidly spot operational anomalies much earlier in the process. Opportunities for improvement surface in your manufacturing processes and supply chain. The analytics at this step transform your viewpoint, with fully transparent data … and most importantly, context for that data. From plant manager to CEO, you'll have an instant, intelligent, end-to-end view of operations.

Industry 4.0 Smart Manufacturing

: With fully autonomous Smart Manufacturing, your Food & Beverage manufacturing process now includes traceability — from raw materials to product delivery — optimized supply chains, and fully transparent, realtime contextualized data. It can warn you of trouble, early on. It can surface numerous opportunities for improvement. It increases plant and product safety. It can speed products to market. And it continues to improve. Manufacturing for the Food & Beverage Industry has evolved.
Industry 4.0 Smart Manufacturing for the Food & Beverage Industry has arrived, combining technology and manufacturing to create the most efficient, safest manufacturing line in history. With Smart Manufacturing, Food & Beverage companies are more profitable, more competitive, and more prepared for future challenges today.
Your guide towards Food & Beverage Smart Manufacturing
ThinkIQ's manufacturing and traceability platform has already revolutionized data technology at the Food & Beverage Industry's largest manufacturers. Our platform supplies proactive Transformational Intelligence that goes far beyond food and beverage analytics to address the entire supply chain, delivering unprecedented food and beverage traceability along with invaluable, proactive and actionable insights.
ThinkIQ has aligned our Solutions roadmap with the 5 Steps above, combining the best of supply chain data analytics, traceability, and manufacturing analytics, into the next generation manufacturing data platform.
ThinkIQ is different. We're uniquely focused on Industry 4.0 transformation for manufacturers. Our products align with the 5 stage path towards Smart Manufacturing, helping organizations create incremental changes to reach major improvements.
It's not just food industry analytics. It's truly Transformative Intelligence.
Ready to start down the Smart Manufacturing path? Get in touch with a ThinkIQ expert today to discuss the powerful Industry 4.0 innovations available that will help transform your Food & Beverage manufacturing business, and for more information, download a copy of our eBook "Advanced Material Traceability Revolutionizes Digital Transformation" here.