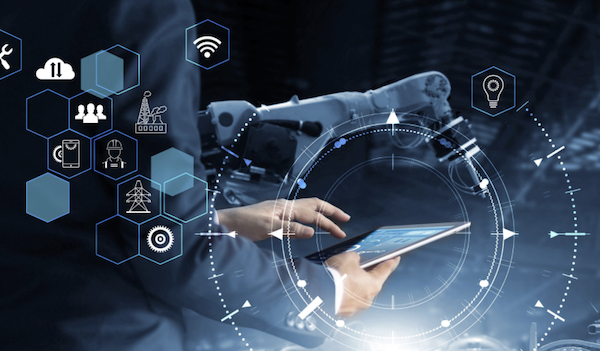 With the fourth industrial revolution (aka Smart Manufacturing or Industry4.0) well underway, it's crucial for manufacturers want to stay efficient, competitive and in compliance with industry standards by upgrading to the smartest digital equipment.
And a well-oiled shop floor is a critical component of an efficient, competitive and compliant manufacturing company. This is where digital solutions like Manufacturing Execution System (MES) software give manufacturers greater control over plant operations, allowing businesses to stay ahead of the curve, profitable, and competitive.
What Is A Manufacturing Execution System?
A Manufacturing Execution System is an information system that monitors and manages data flows and the execution of manufacturing processes on the factory floor. Any number of factors can cause variations on said factory floor, from human error to machine breakdowns and quality problems. MES automation is crucial for monitoring and controlling the myriad of details that make up this complex and dynamic environment; what's more, Manufacturing Execution Systems operate on a real-time basis, enabling immediate reaction to variance, and aiding in faster, more confident decision-making as problems arise.
In short, MES helps teams run factory floor operations more efficiently, smoothly, and strategically.
This technology is applicable across a wide range of manufacturing industries. So let's take a look at a few applications from the Food & Beverage Industry, the Mining Industry, and the Pharmaceutical Industry.
MES In Action
MES Solutions

Enhance Safety and Reduce Risk for the Food & Beverage Industry:

Food recalls are every food manufacturer's nightmare. A failure to effectively manage shop floor operations could result in a food safety disaster at great cost on a number of levels. Old pen-to-paper methods slow down processes and leave too much room for human error, increasing risk for companies and customers alike.

More advanced technologies like MES help food manufacturer's meet requirements established by the Food Safety Modernization Act (FSMA) by significantly enhancing control and consistency, and catching quality issues before they get out of hand. With a Manufacturing Execution System in place, food manufacturers can avoid food safety blunders and harmful impacts on a company's bottom line, while increasing brand trust and customer well-being.
MES Solutions Reduce Cost and Improve Performance for the Metal & Mining Industry

:

For metals companies to compete in today's rapid acceleration towards Industry 4.0 manufacturing, the time has come to retire old and outdated technologies with modern Smart Manufacturing solutions like MES that can empower operators, engineers, and plant managers with critical real-time data that can aid in improving plant performance and reducing cost.

MES can provide valuable metal grade data of in-process metals and raw materials, generate production data for verification of end-products such as bundles of metal products, and provide real-time metrics for plant equipment and alerts when any unit is not running to capacity. This critical Smart Manufacturing information can enable corrective actions, halt metal production losses before they happen and decrease overall operational costs in an industry that is already struggling to manage budgets in an ongoing

global energy crisis

.
MES Solutions Increase Efficiency and Maintain Compliance in the Pharmaceutical Industry

:

As COVID-19 and other healthcare trends around the globe add layers of complexity for pharmaceutical manufacturers, Industry 4.0 solutions like MES technology can help the pharmaceutical industry face unprecedented challenges.



Whether it's meeting expectations of shorter time-to-market, or aligning with the rapidly evolving compliance requirements of regulatory authorities such as the

FDA

,

MES solutions can handle all necessary functionalities while remaining focused on industry-specific requirements. Reliable, real-time data can improve production process efficiency, speeding up the release of batches, as well as provide early detection of deviations in product quality, allowing manufacturers to get ahead of waste and costly errors while driving process improvements to achieve critical compliance.
Transformational Intelligence - The Next Level
A good Manufacturing Execution System is an invaluable tool to incorporate into your industry's manufacturing process. Staying competitive in this fast-paced, increasingly volatile world means leveling up and taking your operational efficiency a step further towards the Smart Manufacturing of Industry 4.0 — and Manufacturing Intelligence systems can help you do just that. ThinkIQ's Transformational Intelligence platform integrates with other source systems like MES, as well as Industrial Internet of Things (IIoT), Enterprise Resource Management (ERP) systems and more, connecting and unifying data into one accessible analytical model.
With ThinkIQ, manufacturers have access to critical insights from specific, contextualized data, with the ability to drill down into what is happening and why, to predict future events, and to share this information from a single source with all members across the organization. Real-time data from inside the plant is supplemented with crucial related supply chain data for enhanced visibility and traceability, empowering you to handle industry-specific challenges with preparedness, clarity and confidence — and to maximize the overall success and profitability of your business.
Unlock the full potential of your manufacturing process with MES automation combined with ThinkIQ's Digital Manufacturing Transformation SaaS — Contact us today and be sure to download a copy our new eBook today "Advanced Material Traceability Revolutionizes Digital Transformation"