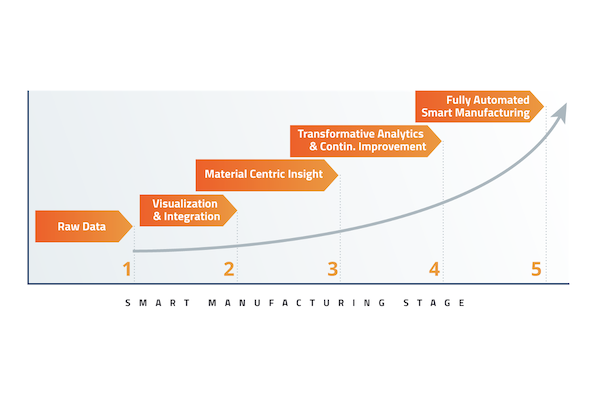 Since the Industrial Revolution beginning in the mid-18th century revolutionized manufacturing processes, technological change has been a constant. Now, here in the 21st century, the Fourth Industrial Revolution, also known as Industry 4.0, has ushered in the kind of technological change that is transforming manufacturing in unprecedented ways. Thanks to Industry 4.0 technologies, Smart Manufacturing is making manufacturing operations faster, safer, more efficient, and more profitable for organizations across a multitude of industries.
Industry 4.0 Technologies Power Smart Manufacturing
The evolution of industry has seen a shift from steam-powered mechanical production, to the use of assembly lines and machines running on electrical energy in Industry 2.0, to further advances in electronics and automation and the use of software systems in Industry 3.0, right up until the Industry 4.0 of today that has seen the rise of cyber-physical systems and artificial intelligence (AI), allowing for intelligent machine-to-machine communication and the advanced analysis, contextualization, and sharing of data.
So what does Industry 4.0 mean for Smart Manufacturing? How does it apply, and how can it add value in order to create smarter manufacturing operations?
Industry 4.0 technologies power Smart Manufacturing in several ways.
The Benefits Of Interconnectivity
Industry 4.0 technologies enable not only the collection, analysis, and contextualization of vast amounts of data, but the interconnectivity that allows that data to be shared across an entire manufacturing operation, between devices, sensors, machines, and people via the internet of things (IoT), thus providing businesses with a complete and clear overview over the entire workings of their manufacturing processes. This realtime data available in the cloud can be completely visualized and managed remotely.
Better Supply Chain Management
Industry 4.0 technologies enable manufacturers to have enhanced insight and control over their supply chain, along with greater supply chain visibility and traceability. An Industry 4.0 Smart Manufacturing operation is one with access to realtime, granular, actionable data from each point across the supply chain, so businesses can identify key areas for improvement and be able to deliver products faster, with higher quality, and at reduced costs.
Predictive Maintenance
Industry 4.0 technologies make Smart Manufacturing possible through AI and a connected factory floor where any potential issues or machinery downtimes can be sensed and predicted before they occur. Machine learning (ML) algorithms identify repetitive patterns that cause disruptions, continuously making improvements over time. Predictive maintenance through IoT systems increases equipment uptime and availability, while reducing the risk of costly errors or slowdowns that might occur using manual methods.
The demands on manufacturing industries today is greater than ever. The arrival and expansion of Industry 4.0 means Smart Manufacturing enterprises can use these advanced digital technologies to address inefficiencies, maximize operational performance, and excel in a competitive marketplace.
A Clear Path To Industry 4.0 Smart Manufacturing
Now that you understand more about Industry 4.0 and its role in Smart Manufacturing, the next step is to understand how these technologies can be implemented into your manufacturing enterprise, so they can begin to transform your operations for greater success.
A true transformation to Industry 4.0 Smart Manufacturing is possible with the right partner, and ThinkIQ provides a clear pathway, guiding manufacturers through the 5 stages needed to reach fully automated Smart Manufacturing status, with valuable improvements available at each stage.
With ThinkIQ's Transformational Intelligence platform, you'll finally have a complete overview of all manufacturing operations, with access to contextualized data in-plant and across the supply chain. Changes in any variable are intelligently linked to both actual and predictive outcomes. The shift to a Smart Manufacturing operation means invaluable interconnectivity, greater supply chain management and agility, increased efficiency and productivity, and a competitive edge in today's manufacturing landscape.
Turn Industry 4.0 technologies into transformative results for your business — Get in touch with a ThinkIQ expert today and let's talk about how your enterprise can achieve the Smart Manufacturing edge, or you can download our new eBook titled "Advanced Material Traceability Revolutionizes Digital Transformation"