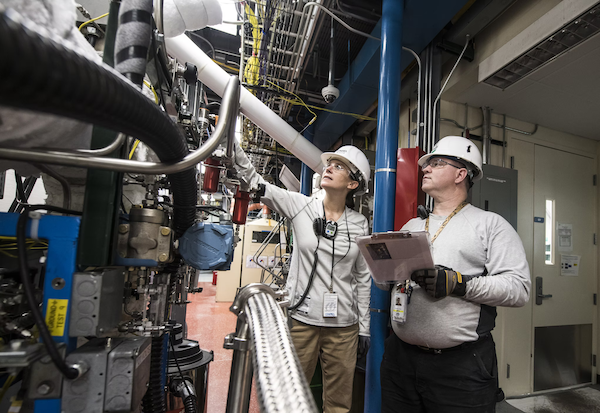 The chemical industry is one of the most critical sectors of the global economy. Beyond its economic value, the global availability of its products, and the quality and safety of those products is essential for building agility and resilience to meet societal needs amidst a volatile global landscape — as events in recent years have shown.
Functioning supply chains, with effective tracing of the production and distribution of chemical products is of fundamental importance in an industry that impacts the lives of millions. In this blog, we'll look at what traceability means in the chemical supply chain, and what solutions manufacturers can look to in order to improve it.
The Importance Of Traceability In The Chemical Industry
Traceability in the chemical supply chain refers to the ability to track and trace the movement of chemical products, substances or materials from their origin through all stages in the value chain from the sourcing of raw materials through to production and distribution. It is the process of documenting and verifying the history, location, and transfer of products or substances at each step of the supply chain.
With traceability in the chemical supply chain, manufacturers can better ensure the safety and quality of chemical products by enabling quick identification and resolution of any issues or defects that may arise. Contaminated or unsafe products can be removed quickly from production or distribution, helping to protect consumers and the environment.
Moreover, traceability helps to ensure compliance with regulatory requirements and industry standards, such as those related to health, safety, and the environment. The chemical industry is, of course, highly regulated, and manufacturers must consistently comply with a range of regulations and standards, including REACH, GHS, and CLP. The strictness of regulations will likely only increase moving forward, as the quest for environmental justice and the protection of public health continues. Just last month, the U.S. Environmental Protection Agency (EPA) and the Biden-Harris administration put forth a proposal to strengthen standards for chemical and polymer plants, aiming for a significant reduction in hazardous air toxins. With improved traceability, chemical manufacturers will be able to demonstrate compliance with existing and future regulations by providing an auditable record of any given product's journey through the supply chain.
In addition to providing chemical manufacturers with the tremendous advantages of better product quality, safety, and compliance, traceability can also help to improve supply chain efficiency by enabling better inventory management, reducing waste, and enhancing logistics and distribution processes — all of which contribute to the higher functioning chemical supply chains so crucial for the health and livelihood of the industry and the people who depend on it.
How Smart Manufacturing Technology Can Improve Material Traceability In The Chemical Supply Chain
Smart Manufacturing / Industry 4.0 technologies can help manufacturers comply with the SEC's climate disclosure requirements by making climate-related data significantly more visible and accessible. Smart Manufacturing processes allow manufacturers to gather and analyze data from various sources, such as sensors, equipment, processes, vendors, weather, labor, and more. This provides a comprehensive view of their operations, which allows the environmental impact to be calculated with comparative ease.
And the data isn't just one total output number. With Industry 4.0 solutions, manufacturers can track and monitor their greenhouse gas emissions, energy consumption, and waste generation in real-time at a granular level, with context, and over time.
How Industry 4.0 Technology Reduces Greenhouse Gasses And Increases Profits
Industry 4.0 Smart Manufacturing solutions are helping chemical manufacturers dramatically increase traceability across their supply chains, demonstrating how the adoption of these methodologies represents the future of supply chain management.
ThinkIQ, a pioneer digital transformation SaaS, is the first platform-based continuous intelligence solution in the market that can be operationalized at many levels, including product quality, process improvement, and across the material-centric supply chain to deliver unprecedented traceability.
With ThinkIQ's Transformational Intelligence platform, chemical manufacturers have the visibility needed for a complete overview of all operations, including material flows and related provenance attribute data. From raw materials to finished goods, ThinkIQ's Smart Manufacturing technology, including semantic modeling and material ledger, dramatically reduces recalls, identifies weaknesses in the plant, and eliminates safety concerns.
ThinkIQ leverages the strengths of Industry 4.0 technology such as Internet of Things, Big Data, AI and Machine Learning to create a new level of operational interconnectivity, visibility, and understanding of materials as they flow upstream, midstream and downstream across the supply chain. Granular data is captured in real time, continuously contextualized, and then turned into actionable insights that transform decision making. ThinkIQ utilizes existing IoT infrastructure on which a cyber-physical system can be built to decentralize decision-making in favor of autonomous task-completion of all but the highest-level exceptions. It's the next generation of Smart Manufacturing delivering insights chemical manufacturers need to improve yield, quality, safety, compliance, and brand confidence.
Data can now be collected, analyzed, and shared in a way never before possible. In a time when accurate materials tracking is more important than ever, ThinkIQ's continuous intelligence solution delivers the vital realtime information manufacturers need to respond quickly, adapt, and thrive in ever-changing conditions.
Achieve a whole new level of traceability for your chemical manufacturing enterprise — Contact a ThinkIQ expert today for a no obligation Chemical Supply Chain Traceability demonstration, and to discuss the 5 stages of becoming a Smart Manufacturer. You can also download our new eBook,"The Smart Factory's Goal of End-to-End Supply Chain Visibility," to learn more about the road to an Industry 4.0 Smart Factory, and how ThinkIQ can help illuminate critical blind spots across the supply chain.