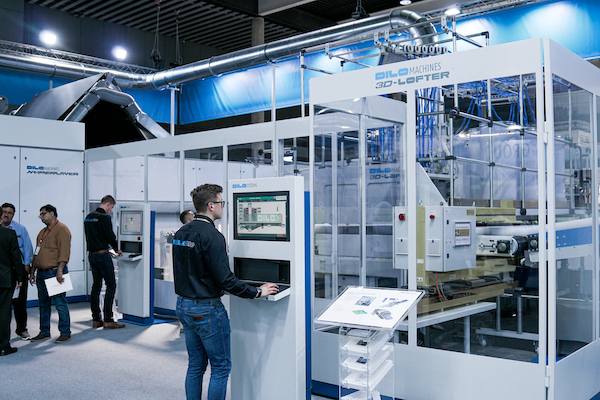 In the 1960s, George Jetson showed us the sexy side of the future. We were promised flying cars that could fold into briefcases and robotic maids (top that, Back to the Future 2!). The joke of the whole thing — the same basic joke they used about the primitive world in The Flintstones — is that all that cool future tech was blasé to George and family. And to most regular folk, the factory of the future and smart manufacturing offers the same sleepy effect. Industry 4.0? Big whoop, where's my floating treadmill?
Those of us neck deep in supply chain management know that the factory of the future offers an extraordinary tomorrow that has already begun to make the world go round with incredible speed and efficiency. That's why about 40 percent of manufacturing executives believe the time is right to invest in smart manufacturing and the internet of things (IoT). The enlightened (82 percent of those surveyed) have reported an increase in efficiency, lower product defects (49 percent of those surveyed), and customer satisfaction gains (45 percent of those surveyed). While we still haven't achieved all the futuristic conveniences The Jetsons predicted, we are closer than ever to greater agility, value, and innovation that even Mr. Spacely would appreciate.
Disruptive technologies promise to close the gap between previous manufacturing limitations and unprecedented customer demand. New and developing technologies such as mobility allow vital communications to be made from anywhere globally. Late-stage assembly processes such as integrated CAD systems allow for greater customization on a mass scale. Robotics have led to shop-floor automations that are a game-changer for workflows and production cycles. Big data and artificial intelligence (AI) have made factory processes and customer expectations more predictable. The cloud itself makes vast data repositories more digestible.
The Impact Of Robotics And Sensors
One of the big breakthroughs the factory of the future offers is greater collaboration between man and machine. Robots can now work alongside humans on the factory floor via intelligent sensors, advanced safety parameters, and greater dexterity to pick, place, sort, and load faster. These strides in robotics achieved in harmony with human counterparts have led to swifter technical adjustments in format and speed. By injecting adaptive control and self-learning capabilities into the factory, product types can be switched in an instant and technical adjustments are possible without having to halt production.
The smart utilization of sensors can lead to real-time adjustments. Connected by data communications systems, information can now be routed faster between man and machine. That data is collected in the cloud to track trends and identify improvements in the manufacturing process.
These AI-enabled applications also result in enhanced safety. Autonomous robots can minimize any challenge that crops up to maximize the well-being of the people they work alongside. Machines even talk to each other using cloud connectivity to automate mission-critical processes. Disparate systems have become connected and can pump out actionable insights to their operators. As such, both energy and water waste can be minimized for more environmentally sustainable operations. When systems are connected, optimizations can be made to production line systems in days or hours. Restocks can be automated when inventory runs low and downtime avoided through predictive maintenance.
Food And Beverage Manufacturing Of The Future
In the food and beverage industry, the factory of the future does not shrink at the challenge of food safety, quality assurance, government regulation, or consumer demand for clean-label products. Raw material traceability is vital in eliminating risk recall, improving yield, and reducing waste. And such gains aren't good just for reputation and sustainability, they're good for the bottom line. A Digital Manufacturing Transformation SaaS such as ThinkIQ can deliver these Industry 4.0 results in spades.
ThinkIQ provides unprecedented raw material visibility that has saved companies tens of millions of dollars. Our technology allows manufacturers to see exactly what is coming in and how to maximize yield. Quality data can be entered so fast, data entry is no longer an all-day task. Adoption of our unprecedented raw material visibility enables standardizations across the plant, the region, even the entire enterprise. Real-time raw material visibility into critical manufacturing parameters (such as specific gravity and moisture) can lead to greater optimization of individual production runs and a single source of truth for all raw materials.
ThinkIQ clients have improved yield in the factory by significant margins utilizing our analytical/quantitative approach to quality control over current/legacy manufacturing systems, such as ERP and MES. We have seen production yields double, recalls eliminated by 99.999 percent, and enhanced customer engagement and loyalty.
Interested in reaping all these rewards? Talk to a ThinkIQ expert to learn more about the factory of the future today. We also have a new selection guide eBook to help you better understand the questions you should be asking. Download your copy today.